Hey, What Happened?
Last week what looked like a perfect opportunity to get the first win of the season versus DC United, the 2013 MLS "Wooden Spoon" winner as the worst team in the league, the Fire played down to their opponent and only came away with a point. A Fabian Espindola goal from a free kick and yet another mess in the box from an opponent corner kick led to the other DC goal, scored by Perry Kitchen. There were definitely bright spots for the Fire, though. Harry Shipp keeps cementing his spot in the starting XI by providing another assist off of a Chicago corner and Patrick Nyarko looked pretty dangerous coming on as a second half sub after sitting out a week due to suspension. Still plenty to work on, but it is a long season.
Hey, What's Happening?
The men in red come back home this week to host the rebuilt Philadelphia Union Saturday afternoon. The Union, in addition to retooling their starting midfield, just traded starting striker Jack McInerney to Montreal for Andrew Wenger. Out are Michael Farfan and Designated Player Kleberson, in are new DPs Cristian Maidana and Maurice Edu along with French Ligue I veteran Vincent Nogueira. The additions to the midfield have worked tremendously, as the Union have started off the season better than the Fire, controlling play in large stretches. The teams are in similar positions, however, as both are looking to build on team chemistry and tighten up on mistakes that have cost them wins in the early going.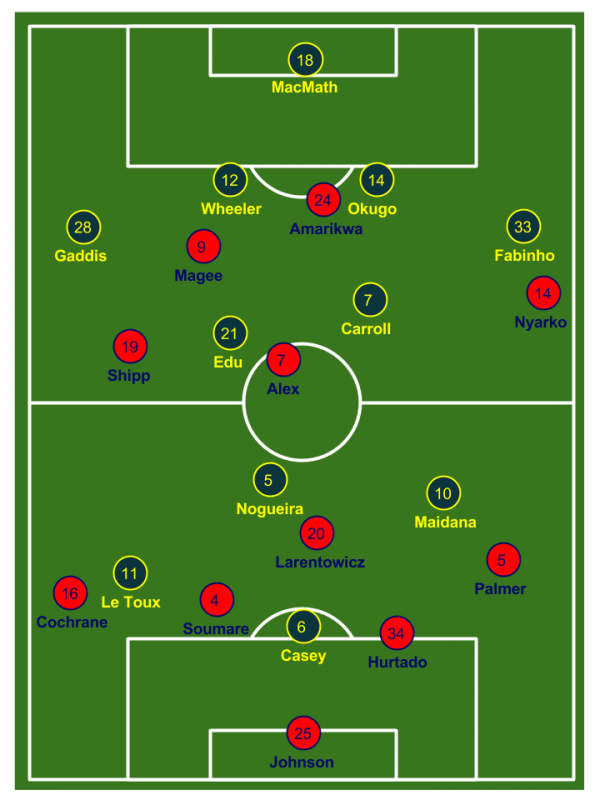 Hey, What Should Happen?
In order for the Fire to take all three points in Chicago, a few things must happen. First, they have to be able to clean up on corners and free kicks. We have seen in the past two games that the Fire have issues cleaning up the garbage in their own box off of corners and free kicks. They must be able to control the box considering that the Union have poachers like Seba Le Toux and players who are good in the air, like Conor Casey and Amobi Okugo.
Second, the Men in Red must try to contain that new-look midfield of the Union. With the Union primarily lining up in a 4-2-3-1 formation, it will be important for the Fire's backline to keep tabs on the Union midfielders that push up and join the attack. Le Toux has always been dangerous since coming into the league, new DP Maidana is still getting his feet wet in the MLS but can be a handful, and Nogueira is no slouch either, having plenty of experience playing in France with Sochaux.
Third, take the opportunities when they come. What I mean is that the Fire have to take their chances and take them well. Right now, the Fire have recorded 16 shots on target and have scored 6 goals. That's pretty good, but definitely can be better. If a cf97 attacker finds himself in shooting distance with no better options, I'd like to see them take the shot. What's the worst thing that can happen when they do that?
Lastly, I'd like to see Yallop use Joya in Alex's place. Joya has said he considers himself more of a central midfielder and last week was an indication that he was not too comfortable out wide on the right. Maybe just maybe he could be that box to box midfielder that this team needs. Alex just isn't showing enough to justify his spot, so why not try Joya in his place?
Hey, What's Going to Happen?
When the Union and Fire square off on Saturday afternoon, both teams will look to gather some momentum heading into second month of the season, and each coach will have nearly his entire roster to choose from. The Union may have to rest Edu, as he was with the USA on Wednesday night, but Sean Johnson (who was also with the Nats) should be good to go. The only injury concern for Yallop is that Segares may still need more time to rest his injured ankle. For the Fire I would expect Palmer to slide back in at right back now that his two-game suspension is over, but go with a mostly unchanged lineup. I wouldn't be surprised if John Hackworth uses the almost same lineup that he used versus Montreal last week except possibly bringing back in Berry on defense and aforementioned possibility of Edu needing rest.
It's going to be cold, but not as cold as the home opener. Most forecasts have the temperature in the mid-40s, but sunny. Hopefully the pitch is in better shape, and hopefully there will be plenty of Fire faithful out at Toyota Park in full voice.
Prediction: Unfortunately, I don't see this one going our way, I'll go with a final score line of 2-1 to the Union. I have a feeling that set piece defending will haunt the Fire for a third week running.
When: Saturday April 5th at 4PM CST
Where: Toyota Park, Bridgeview, Illinois
Where to Watch: Toyota Park Stands, My50 Chicago, TWCSC Wisconsin, MLS Live
More from Hot Time In Old Town